Supporters like you make the Flea possible
Join the growing number of organizations and businesses that are becoming part of the Inner Sunset Flea.
There are 2 ways to promote your brand through the Flea:

1. Sponsorship
Become a sponsor and promote your business/organization in the community and across San Francisco and the Bay Area.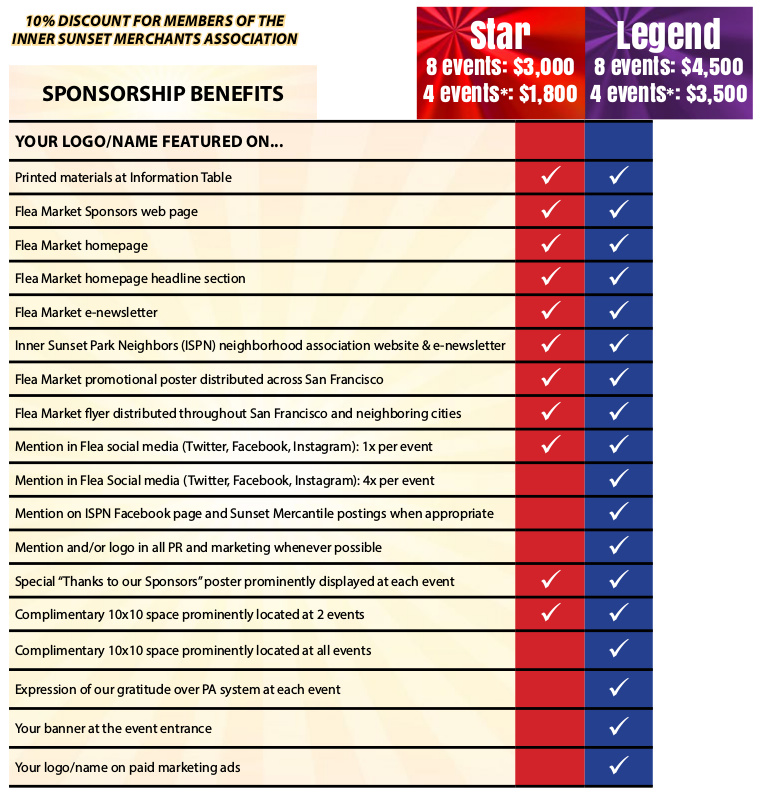 To join us as a sponsor, write a check payable to "Inner Sunset Park Neighbors", indicate that this is for "Inner Sunset Flea sponsorship", and mail the check to Inner Sunset Park Neighbors, 1032 Irving Street, #511, San Francisco, CA 94122.
In addition, please email a high-resolution version of your logo to iss@inner-sunset.org, indicating to where your logo will link.
2. Supportship
Our Supportship program is an affordable package that brings attention and new customers to small local businesses.
Supportship benefits include your logo on our:
Posters and flyers distributed across San Francisco and the Bay Area
Logo with link on our website
Social media (Facebook, Instagram, Nextdoor, Twitter)
Inner Sunset Flea newsletters
Paid advertising and PR whenever possible
At the Flea Market on the "Thank You" poster and mention on the mic
Fees
4 events (April-July) or (Aug-Nov): $450
8 events (April-Nov): $700
Deadlines: March 6th and June 1st
Members of the Inner Sunset Merchants Association receive a 10% discount!
For more information, contact Angie: 415-465-2475 / angie@sunsetmercantilesf.com